Covid Updates on Gatherings
Covid-19 Response: January 2021 Update on Central Gatherings and House Church
It's hard to believe it was nine months ago that we were passing out Here for Good t-shirts and Easter egg hunt kits to our King's Community family all around central Texas in quarantine to celebrate Easter with the message that the church may be scattered, but our mission and our unity remain intact. 
Nine months later, and ten months into this global pandemic, the rhythms of everyday life remain different. The way we work, learn, shop, and interact has changed. According to a survey conducted by the Cleveland Clinic, 
"The pandemic has triggered a wave of mental health issues. Whether it's managing addiction, depression, social isolation or just the general stress that's resulted from COVID-19, we're all feeling it. It seems to especially be hitting younger people."
And yet the study also concluded 
"And while 58% say that the pandemic has changed their way of life forever, nearly three-quarters (72%) said that they still have hope for the future."
We are still Here for Good. And as the church, the people of God, we have hope!
Pastor and author, Pete Scazzero, who wrote Emotionally Healthy Spirituality and Emotionally Healthy Church, has this to say about hope through the Coronavirus era: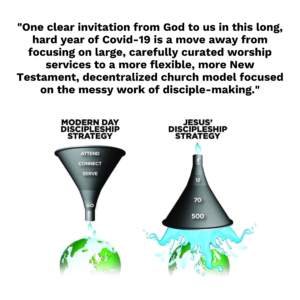 "One clear invitation from God in this long, hard year of Covid-19 is a move away from focusing on large, carefully curated worship services to a more flexible, more New Testament, decentralized church model focused on the messy work of disciple-making."
This is what our church elders continue to drive our church towards. However, statistics revealing Covid hospitalizations and deaths continue to be staggering, and the last thing we want to do is be irresponsible by endorsing gatherings in homes where the virus spreads without discrimination. 
We believe it's in our best interest to gather for weekly central gatherings outside on Sunday mornings from January 31 – May 30. 5 Stones is happy to host us through this entire season. This is great news because outdoor, Covid-cautious environments are the safest way to gather.
What does this mean for house churches?
The elders are as enthusiastic as ever about house churches being a critical component of the future of King's Community. The decision to delay formal HC gatherings is about wisdom and timing, not mission and vision. 
What will Sunday mornings be like?
Sunday, January 31 we'll gather and celebrate our 2 year birthday as a church along with baptisms at 5 Stones. Learn more about baptisms via the link below.
Learn more about baptism
Beginning Sunday, February 7 we'll gather at 5 Stones in familiar fashion with set-up, singing, kids ministry, praying, preaching, and brunch.
*Because of the cooler temperatures in the morning this time of year, we'll be starting our gatherings at 10:30 a.m.
What if there's bad weather on Sunday morning?
We'll communicate with you. Sign up for our email updates. Follow us on social media. And make sure your house church leader has your phone number to contact you.
Sign up for emails Follow us on Instagram Follow us on Facebook 
Will we continue posting sermons online for people who don't feel comfortable attending an in-person gathering or cannot be there?
Yes.
Like all of you, I wish we were closer to being through this season of being fragmented. I am grateful that God has a great history of building his people while they're in the wilderness. 
During the Dark Ages, a motley crew of Christ-followers in Ireland shirked the evils of the corrupt church oppressing people at the time and devoted themselves to three tasks: 
Subduing the flesh

Memorizing Scripture

Hearing the Holy Spirit
It was this movement that ascertained following the Holy Spirit is like "chasing a wild goose" — not proper, probably fun, unrefined, and unpredictable at times. The wild goose is represented in the church art that came out of that era — leading people out of the Dark Ages.
While pivoting is tiresome, there's nowhere I'd rather be than chasing the Spirit with you, leading people out of darkness.
In order for us to do this right, we need your help. If you weren't already serving on a team, please sign up to serve on the setup, King's Kids ministry, production, or hospitality team. Sign up via the link below.
Cheers to the wild goose chase.
See you soon!
Much love,
Gabe deGarmeaux